Sept. 7, 2023
"Sit Here and Scream" (the Football Song) is now available for streaming and download on bandcamp!
https://carlaulbrich.bandcamp.com/track/sit-here-and-scream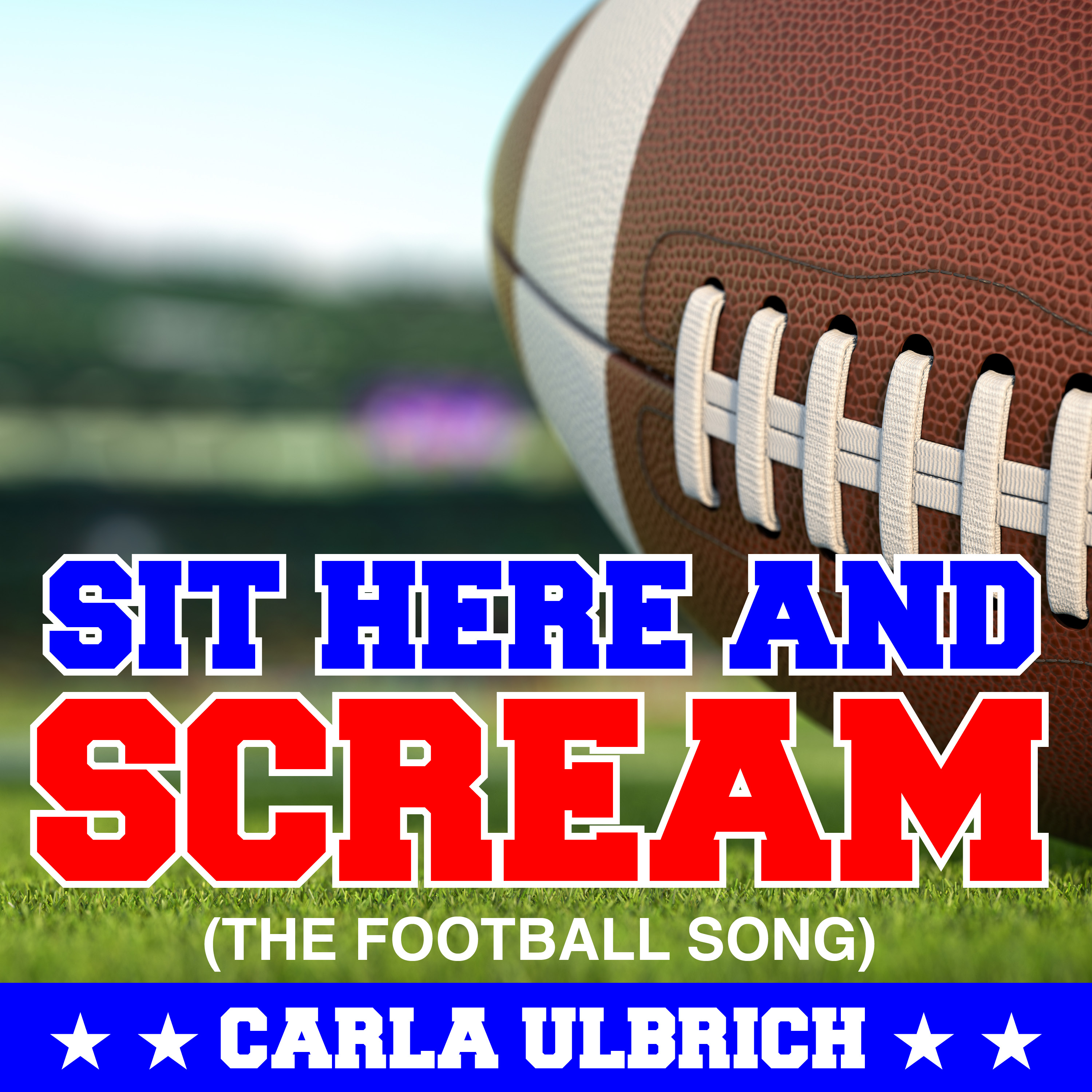 August 27, 2023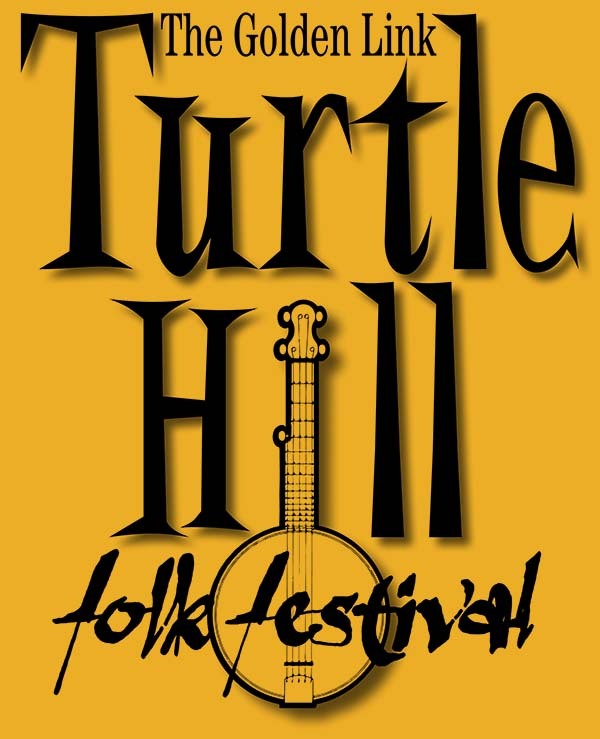 Looking forward to the Turtle Hill Folk Festival in upstate NY, Sept. 7-8. Lots of great acts on the bill. Small, friendly fest with lots of workshops. 
and the State Fairs convention in Idaho In November!
June 1, 2023
Moisture Festival podcast interview:
We had an interesting conversation about humor and music, teaching guitar, surviving illness- the hosts really did their homework on me!
https://podcasts.apple.com/us/podcast/the-moisture-festival-podcast-carla-ulbrich/id1509778713?i=1000615282885
https://podcasts.google.com/feed/aHR0cHM6Ly9tYWdpY3Nob3cudGlwcy9mZWVkL3BvZGNhc3Q/episode/aHR0cDovL3d3dy5tYWdpY3Nob3cudGlwcy8_cD03NzEx?sa=X&ved=0CAUQkfYCahcKEwj4u7eBtKL_AhUAAAAAHQAAAAAQAQ
May 19, 2023
Do you ever get annoyed when it's 100 degrees outside and people are like "Is It Hot Enough For ya? hahahaha?" I've got a song for you (and them)!
May 9, 2023
Have you ever been to a comedy club or a comedy open mic and been appalled by the number of jokes that are about men's... libidos? I have been to so many comedy events where that was the main topic, that I felt the need to  craft a response.
This song was originally a comedy bit I wrote, but with the help of the talented Lauren Mayer and her mad piano skills, we turned it into a song. And we just released it.
It's called... 
"It Must be Hard (to Have a P*nis)"
Have a listen here !
https://www.youtube.com/watch?v=n4YvdCWAp3Y
March 27, 2023
What a spectacular weekend at moisture Festival, the longest-running comedy/ variete festival in the world!
Held over the course of 4 weekends every spring in Seattle, it's basically a circus, without the animals. This was my 3rd or 4th year at Moisture Festival, and it was as magical as ever. Arial acts (trapeze), clowns, magic, jugglers, a live house band- and tickets are so affordable! If you're anywhere in Seattle, definitely make plans to attend next year!  Photo: John Cornicello
March 9, 2023
What a fun night at Birdland!
On stage with effervescent host Susie Mosher. Photo by Matt Baker.
"Then a little blond sprite got up and made the audience roar with her hilarious song about the word F**k. OMG. Carla Ulbrich is a guitar playing songwriter who you must get into. She is special." - BroadwayWorld.com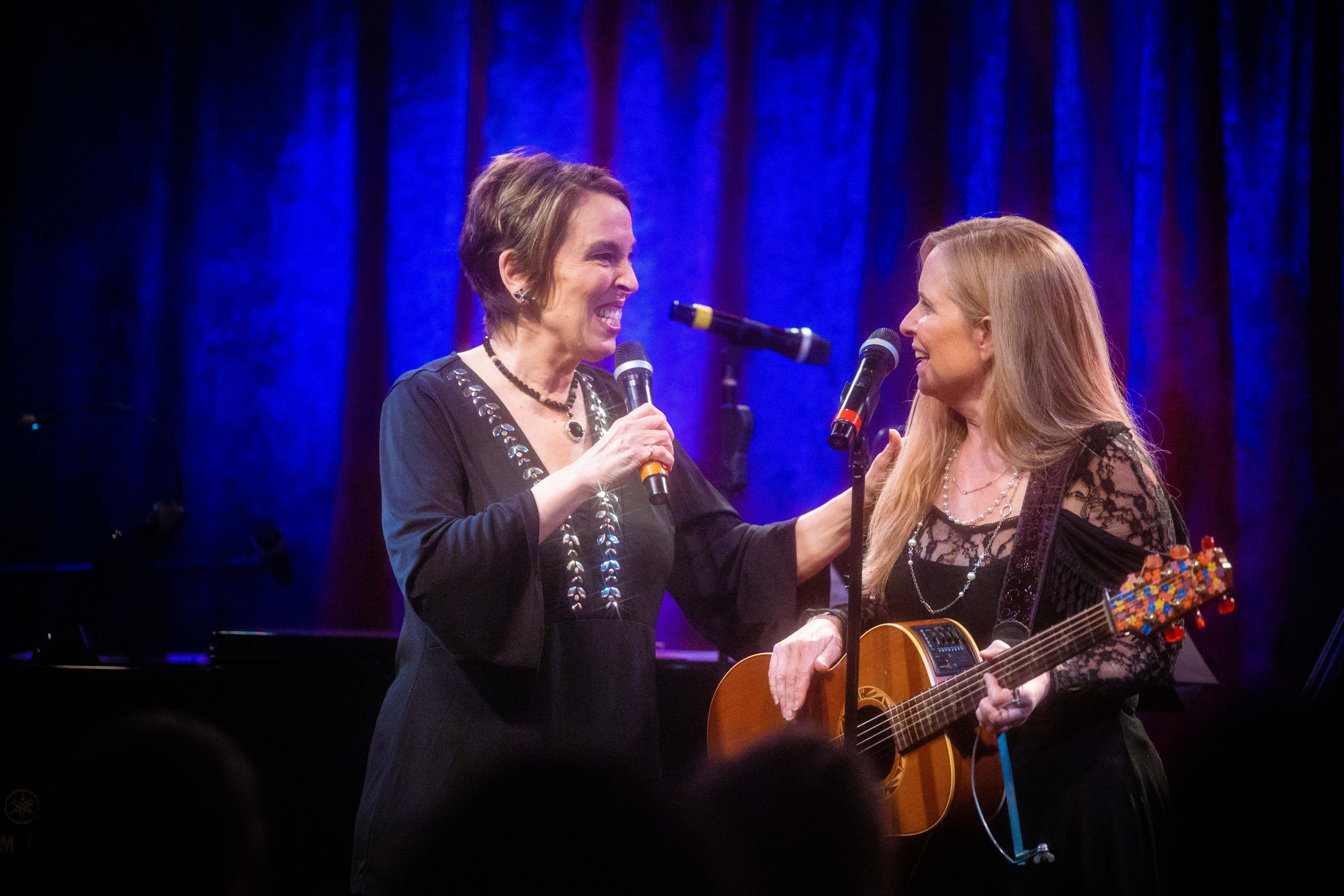 Feb. 22, 2023  This Thursday!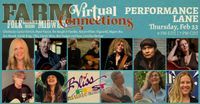 Performance Lane Showcase: Folk Alliance Regional Midwest (FARM)
Thu, Feb 23 @ 8:00PM Eastern
online (on Zoom!), everywhere
in conjunction with FARM chapter of Folk Alliance. I'll be doing a 10-minute showcase 8:10pm - 8:20pm EST You must register in advance (it's free). Registration info is on the "Live concerts" page of this  website https://carlau.com/live-concerts 
Feb. 21, 2023: tonight! 
Host George Graham presents Homegrown Music. He will be airing a bunch of my brand new songs, which I recorded at the studio late one night this past December.
December 9, 2022
Fun livestream tonight!
http://www.youtube.com/carlaulbrich 
December 8, 2022
"Santa Hat" has gone viral on Facebook! (no, not covid! internet viral!)
With over 320,000 views on Facebook in the first 24 hours, enjoy this video of Avalanche (our dog) giving Santa what-for.
YouTube:
Facebook:
November 25, 2022
Well I have COVID (again). I regret to announce that I will not be at the Troubadour (Folk Project) tonight or at QED (Odd Rock Comedy hour) tomorrow night. I'm starting feel better but I'm still contagious. When I said I wanted to go viral, this was not what I meant. Boy, you really have to be specific when you put things out to the universe.
I *do* have another date scheduled for the Folk Project on December 30, when I'll be headlining (2 sets, lots of new songs since last time I played there- which must've been in 2019!). If I have to wear 3 masks and a HAZMAT suit for the week before, I *will* be there!
November 16, 2022 NERFA Hangover
A fab, fun time at NERFA, where I saw old friends, made music, ate junk food, and stayed up too late.
Followed by attending a Christine Lavin/ John Forster concert (If you don't know these 2 very funny, accomplished talented songwriters, do yourself a favor and look them up!). And the concert was followed by a pajama party and breakfast the next morning- so much fun! (photo below: Christine Lavin, Judy Kass, John Forster and his talented wife, Vicky, me)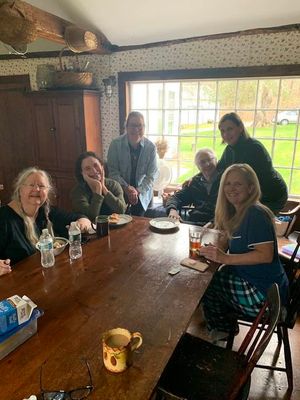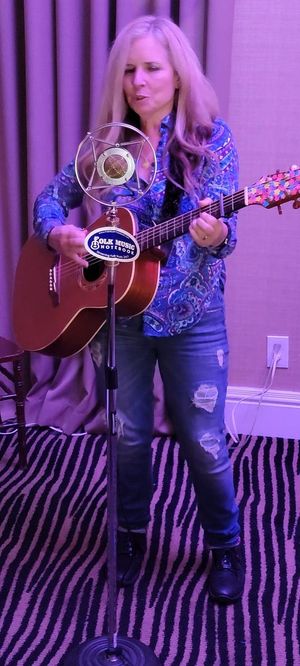 photo by Ron Olesko
November 10, 2022: NERFA This weekend 
I'll be attending NERFA (Northeast Regional Folk Alliance Conference) this Thursday and Friday in Asbury Park.
I have 2 showcases:
Thursday 10:40pm
Skyland Songwriters Guild
20 minutes, solo
Room 427
Friday night 1:00am
(technically Saturday but in NERFA time, Friday night)
Folk Music Notebook
15 minutes, solo
Room 218
November 1, 2022
New Music Video: Dead People
Disappointed with the last few seasons of The Walking Dead?
Do you think that Season 11 make Fonzie's shark-jumping look like high art? You are not alone. 
Subscribe to my YouTube channel or follow/ like my Facebook page for more ridiculous (and sometimes very opinionated) humorous songs.
(Just for the record, this song is basically a summary of my husband's rant about the show. And while I can slop my way through this song on piano, the piano on the recording is actually the fabulously talented Bill Larkin, who, if you don't know him, why not? He's also hilarious).
Here is the video on Facebook:
And on YouTube:
October 14, 2022
New Music Video:
5 Foot 1
this one goes out to all my fellow fun-size peeps (anyone under 5'4"). 
Here it is on Facebook:
And on YouTube:
October 12, 2022
Our triple bill at Rockwood Music Hall in New York City was a sellout! And a great evening.
So nice seeing familiar faces as well as new ones. :) 
October 4, 2022
I'll be playing in NY City next Tuesday night as part of John Platt's "On Your Radar" series.
I'm sharing the bill with Bossa Blue and Aimee van Dyne.
John Platt is a long-time WFUV DJ and has most excellent taste, so this should be a wonderful evening of music.
Rockwood Music Hall, Stage 3
Enter on Orchard St. Masks encouraged.
$15 in advance or at the door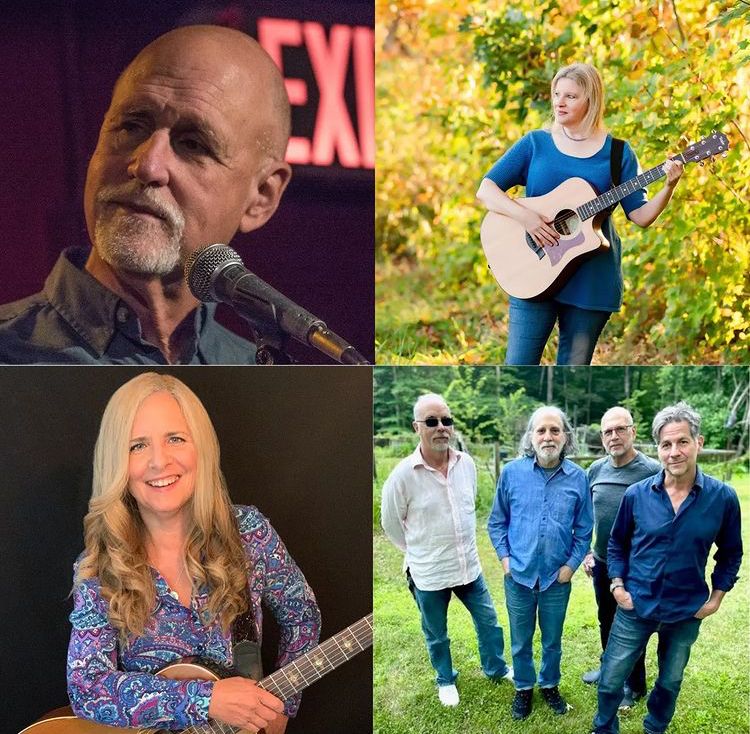 September 21, 2022
I'm at SWeRFA in Austin! 
It's been a long time, but I'm back at SWeRFA (Southwest Regional Folk Alliance Conference). What is that? It's a music biz conference where we do short showcases for venue bookers, DJs, other music professionals and of course, fellow musicians. Get heard, get booked and hear a bunch of other great artists.
SWeRFA *does* allow the public to come attend in the evenings for a mere $15 ticket per evening. It's a music buffet and I highly recommend it.
Here's when and where I'll be performing:
Friday night:
11:30pm-12:00am (in the round)
BMI showcase
Room 704
with Craig Marshall and Angie Goeke
12:30am (15 minutes)
The People's Republic of Austin Showcase
Room 809
Saturday night:
10:50pm
HAAM (Houston Area Acoustic Musicians)
Room 904
12:10am
WMA/New Mexico
Room 721
For the night owls out there, I'll also be doing one song and jamming here on Saturday night:
1-2am 
Acoustic Music Scene Hoot
Room 709
September 12, 2022
In celebration (sort of) of the kickoff of the NFL season, this song goes out to the fans who feel betrayed by their favorite football team up and leaving town, changing the team name, or trading away their players. Shoutout to Keith Howard, challenged me to write this song:
listen on iTunes:
https://itunes.apple.com/us/album/id1645968905
listen on Spotify:
http://open.spotify.com/album/7GSUh5ePidpis0sar4CjVz
listen on youtube:
September 10, 2022
The F-Word song re-released (new and better live recording!)
A new, improved recording of the F Word song (If I Had the Copyright) is now available for streaming!
Wish I had gotten this remixed years ago, but better late than never. Now you can hear every word.
Spotify:
https://open.spotify.com/album/4VQwEOMPELXEwk9F6tyfKW?si=Cc21iYGwRhqloLaV0fFOCA
amazon music:
https://www.amazon.com/gp/product/B0BDLXXR5Q
apple music:
https://music.apple.com/us/album/1644027261?app=itunes
August 25, 2022
"Katie Porter's Whiteboard" Song Featured on Spectrum News 1's "Inside the Issues" in Los Angeles
"Katie Porter's Whiteboard," a song I co-wrote with Lauren Mayer, was featured on TV this week on the News Program "Inside the Issues" on Spectrum news 1 in Los Angeles. Lauren and I are both huge fans of Katie Porter and her undefeated whiteboard, so it was an honor to have our song introduce Katie Porter's live interview about gun control.
It's at about the 2-minute mark:
https://spectrumnews1.com/ca/la-west/news/2022/08/24/inside-the-issues--rep--katie-porter-on-curbing-gun-violence?cid=id-app15_m-share_s-web_cmp-app_launch_august2020_c-producer_posts_po-organic
Here's the song with a full band:
July 23, 2022
Philly Folk Fest!
I'll be in the round with 2 other funny songwriters, Barry Rabin and Todd Chapelle, on Saturday August 20 at the Philly Folk Fest. Can't wait!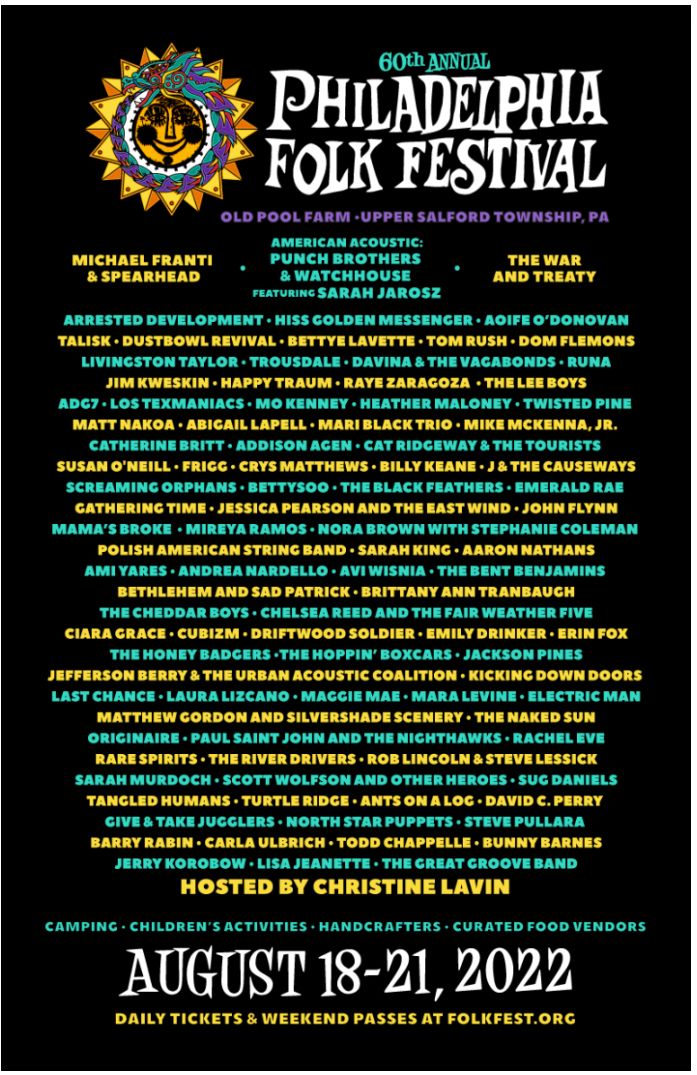 July 20, 2022
FRIDAY JULY 22 SHOW CANCELED DUE TO COVID
I'm saddened to announce that the show scheduled for Friday, July 22 in Morristown with Trout Fishing in America has been canceled because someone has contracted covid. I was really looking forward to this show and am quite disappointed. Trout Fishing has been rescheduled to appear there on August 26, which was originally my date play a full concert at the series. *New date: I will be headlining at the Troubadour in Morristown Dec. 30!
June 16, 2022
VIP After-Show Hangout Tickets now available
New! Right after the July 8 livestream, we're gonna do a VIP meet-and-greet hangout on Zoom, where we can all see and hear each other and you guys can ask me anything you want! Tickets are here:
https://www.eventbrite.com/e/vip-after-show-hang-with-carla-ulbrich-tickets-365683117047
Monthly Livestream now on Twitch (and YouTube and Facebook)
By request, the livestream will now be broadcast on Twitch as well as Facebook and YouTube.
Here's the Twitch link:
https://www.twitch.tv/carlaulbrich
May 27, 2022
New review of "Twang!"
"Carla is the nation's funniest comedian singer songwriter. She is clever and unique in her style of fun and entertaining lyrics. Consider a mash-up of Weird Al, Minnie Pearl, Loretta Lynn, Rosanne Cash and Sheryl Crow. That thought only leads to the vision of a truly clever, one-of-a-kind artist that is Carla Ulbrich." - Ruby Slippers, "Click Your Heels Together" DJ, KVMR
read the whole review here:
https://www.theunion.com/entertainment/all-ears-kvmr-djs-select-new-favorites/
May 19, 2022
New review of "Twang!"
"hats off to Carla Ulbrich... 'Twang' is a feel-good record with humor, smart material and solid instrumentation. This album is a success in my book, so Carla Ulbrich should be very proud of her efforts here."
Read more here:
https://skopemag.com/2022/05/19/carla-ulbrich-has-the-twang
March 19, 2022
The second lyric video for "Twang" is here!
Have You Tried Not Bein' a Dick? (yes, there's some naughty language in this one).
March 15, 2022
Wonderful review of "Twang" by Italian publication "Planet Country."   
(Plus, Italian-to-English translations always provide some strange and amusing results. Such as 
"will make traditionalists happy and in any case all those who badly digest current Nashvillian proposals linked to the majors." Actually, I think I agree!)
March 11, 2022
The first music video for "Twang" is here! 
Have a look:
March 6, 2022
"Twang" reviewed by The Ark of Music
Another fabulous review!"The world of folk/country-comedy may be a niche genre, but for those who appreciate brilliant lyrical work, musicianship of the highest level, and authenticity radiating from each and every track, the work of Carla Ulbrich is a bonafide hit and Twang is well worth the listen." Read more:
https://thearkofmusic.com/carla-ulbrich-twang/
March 1, 2022
"Twang" is officially here!

The new album, "Twang" is officially released as of today, and available for purchase (and streaming and sharing).
It has also been delivered to a number of folk and country radio stations.
It's on YouTube, it's on most streaming platforms, and it's on bandcamp (both CD and download are available there, and, for those keeping track, this Friday is bandcamp Friday).   

Have a listen (if you haven't already!) and if you know someone who likes old-school country music
(hot pickin' and dry wit), please share!
I'm so proud of this project, and I hope you love it.
All the links:
http://carlaulbrich.bandcamp.com
https://itunes.apple.com/us/album/id1611104299
https://music.amazon.com/albums/B09T2HFYVM?ref=dm_sh_ce3c-9eb0-7277-19b8-406b0
https://open.spotify.com/album/0zaq3BPb6sM0nxdSlrYJEt?si=RsrO43zlTGaOA55z5UGgeA
Feb. 28, 2022
"Twang" reviewed by Americana Highways
"Ms. Ulbrich's an insightful diversified songwriter. She knows how to lay it out like a good catered party. But at this party – Carla's brought her own booze. Bottoms up." - John Alpice, Americana Highways
Read more:
https://americanahighways.org/2022/02/28/review-carla-ulbrich-twang/
Feb. 24, 2022
"Twang" reviewed by Midwest Record
"this palette clearer can make you smile and cry but always provides a bumper against having to deal with the real world for a few minutes... there's a lot going on here and it's all good." -review of "Twang," - Chris Spector, Midwest Record
Read more:
http://midwestrecord.com/MWR1862.html
Feb. 23, 2022
"Twang" reviewed by Music Mecca
"Carla Ulbrich's new LP Twang is sure to make audiences laugh, dance, and learn how not to take life too seriously." -Anna Lee Palmer, Music Mecca
Read more:
https://musicmecca.org/first-look-satirical-country-songstress-carla-ulbrich-set-to-release-her-new-album-twang/
In-person Shows!
I'm tip-toeing out into the real world again, after 2 years of almost exclusive online shows (with the exceptions of FuMPFest 2021 and First Night Winchester). Next show is Feb. 26 in Queens. Check the concert page for details on all the in-person (and online) shows. (Yes, I still plan to do the monthly livestream for the foreseeable future).
Feb. 17, 2022
"Twang" CDs are in the mail!
Pre-orders for the "Twang" album are now closed. The first batch is in the mail, and the rest will go out next week! The official release date (when the album will be up online for both purchase and streaming as well as being delivered to radio stations) is March 1. Fingers crossed, we will have a music video for "Is It Hot Enough For Ya" on that date, too!
Jan. 14, 2022
Pre-order the new album, "Twang!"
and/ or order a digital download of the album, or a 2-volume ebook of the best (worst) dad jokes!
https://igg.me/at/twang/x/8109727#/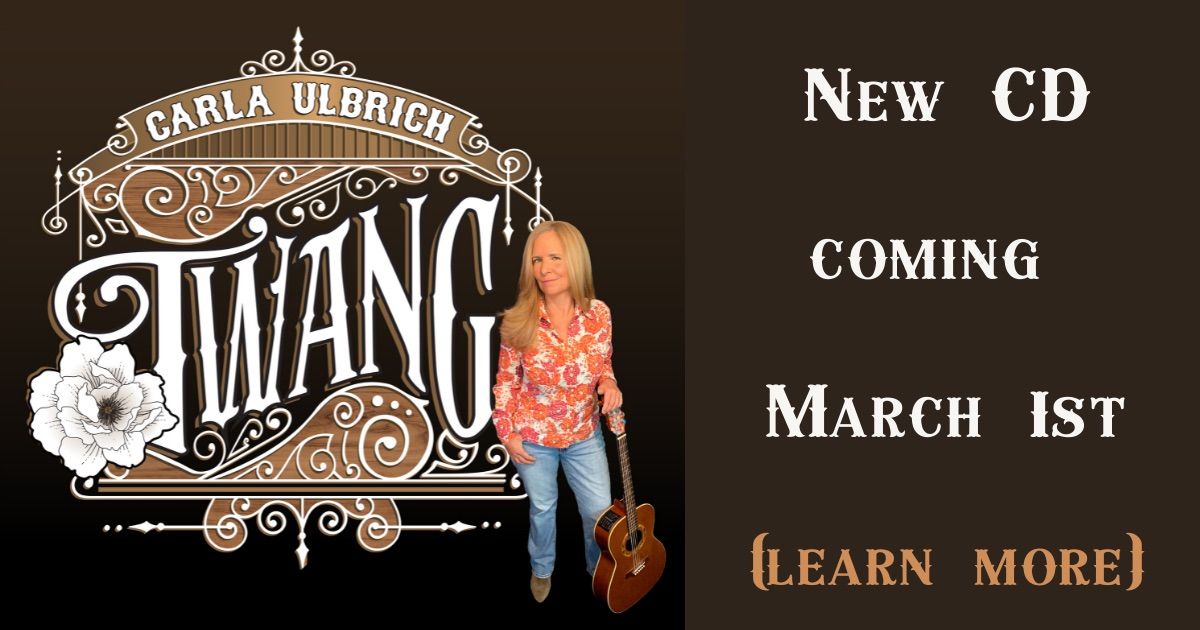 Jan. 12, 2022
All in-person shows through March are canceled and will be rescheduled once covid is less of a threat.
I will still, of course, be doing online shows, such as the monthly livestream (2nd Friday of the month) and guest appearances on the virtual comedy show (virtualcomedyshow.com ).
For the time being, I am still planning to perform the shows scheduled for April and beyond.
Dec. 31, 2021
I'll be doing 3 x 45 minute sets *in person* (masks required) for First Night Winchester (Virginia) on New Year's Eve. Many other fabulous acts on the bill, multiple stages. Family-friendly, alcohol-free and fireworks at midnight!
December 17, 2021
Joe Giacoio and I have both moved our in-person concerts at WorldCon to virtual concerts (due to exposure to someone with covid). We will appear via Zoom at 10pm, Friday, Dec. 17.
September 29, 2021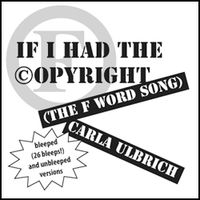 If I Had the Copyright (The F Word Song) single is now available for digital download on bandcamp!
With 3 versions (live and bleeped, live and uncensored, and in the studio with sound effects).
This is my most requested song, was been featured in the documentary "F*ck," (a movie about the F word), hit #1 on Dr. Demento, and was also featured on NPR's Weekend Edition.
Various versions have been included on the Live From outer Space, Live at FuMPFest, and Rare Tracks albums.
September 27, 2021
Prefer to write a check and order CDs and books by mail?
The mail order form is back! http://carlaulbrich.com/mail-order-form
August 28,2021
Live at FuMPFest CD (2017 concert) is now available again!
Live in concert. As heard on SiriusXM Comedy Radio. Slappy, wacky fun.
There are about 25 copies available on bandcamp (or order a copy by mail). 
July 24, 2021
Live *in-person* shows! I'm slowly dipping my toe into the waters of live shows again. I've got shows booked for August, September, New Year's Eve, and next Spring (and a couple local shows for seniors in October). I'm keeping an eye on the covid trends before I commit to more frequent bookings. Meanwhile, I'm still doing a monthly livestream on Facebook and YouTube (2nd Friday, 7:30pm Eastern) and monthly guest appearances on the virtual comedy show (virtualcomedyshow.com ). Stay safe and have fun, y'all! (it's a tricky balance...)
June 24, 2021
Delighted to announce that my song "Put on a Mask" (Parody of "Monster Mash") was nominated for a Logan Award (for Excellence in Comedy Music). There was a record-breaking number of entries this year, so I'm more honored still to be among the top 5 in the Parody category. The winners of the Logan Awards (3 categories in all) will be announced at FuMPFest, with the awards ceremony hosted by Dr. Demento! (I had a song nominated in 2016 and it won- "Cheek to Cheek" was the song- also a parody). See the full list of nominees here: Logan Awards
FuMPFest notes: Best Parody Award went to Devo Spice for his song "Spiderverses" Congrats to Devo Spice! I also got to meet Beefalow Bill and Sulu, 2 of Dr. Demento's sidekicks from his heyday in the 70s- fun people and an honor to meet them. Further congrats go to Shoebox for winning the Golden Spatula in the Dump parody ideas contest for his ridiculous parody of Twisted Sister's "We're Not Gonna Take it" -> "We're Hot Buttered Apesh*t." I was hurting myself laughing.
May 31, 2021
After 15 months of weekly livestream shows, my Friday Fun livestream will now be happening once a month, on the 2nd Friday. I have greatly enjoyed spending almost every Friday with you all, goofing around and sharing songs and humor and distracting ourselves from the worries of the world. Folks are starting to go out more (hooray!) and I am getting ready to do some recording. I'll see you June 11 (and the 2nd Friday of each month) for fun songs, dumb jokes, and a madlib! 
7:30pm Eastern on YouTube and Facebook.
 March 15, 2021
Excited to be a part of this year's virtual Moisture Festival, a comedy and variety festival that normally runs for 3-4 weeks every March/ April in Seattle. This year, it will a 4-day virtual festival, April 1-4 (show times are in Pacific time zone). If you have never had the opportunity to experience the magic that is the Moisture Festival, here's your chance to get a taste from anywhere in the world. It's truly special and draws on vaudeville tradition, where each act is no longer than 8 minutes. Family friendly. Aerial acts, magicians, comedians, dancers- it's a circus atmosphere! Tickets at http://www.moisturefestival.com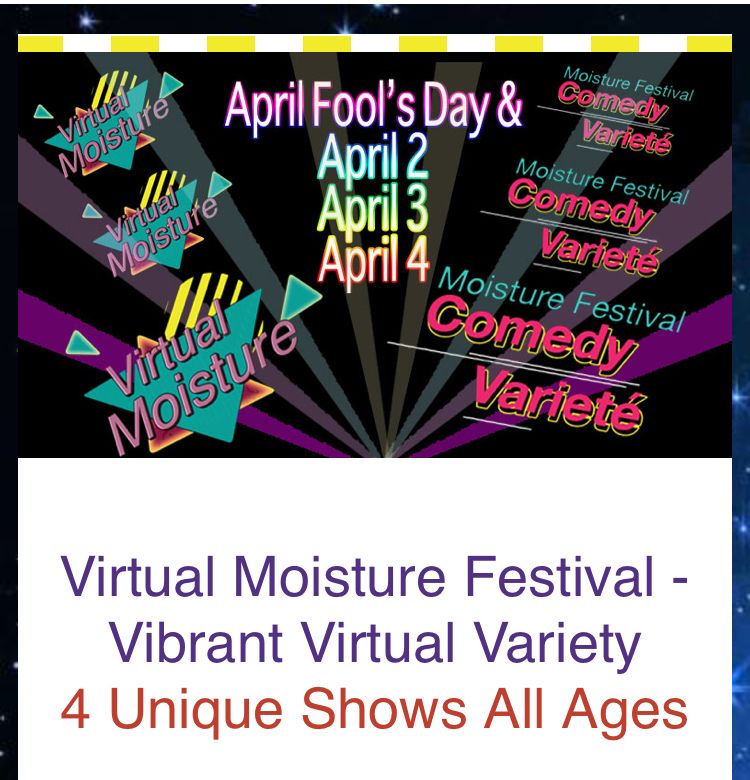 March 2, 2021
I am the musical guest on Season 2, episode 1 of Wednesdays with Toiley T Paper!
Yes, a talking (and dancing) roll of toilet paper. I won't explain further. Just enjoy.
Jan. 25, 2021
Finalist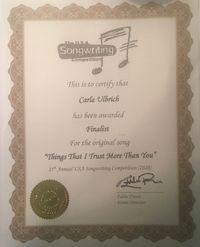 "Things That I Trust More Than You" was selected as a Finalist in the USA Song Competition (Novelty Category, of course).
Jan. 11, 2021
Honored to be included on SingOut! Radio Magazine's Best of 2020 program on Jan. 9 with "Germs Germs Germs!"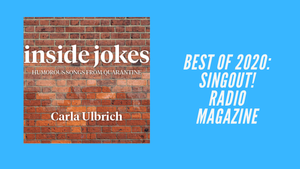 Jan. 3, 2021 
#8 for the year on Dr. Demento!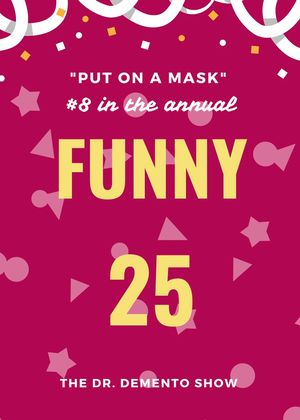 At the turn of every year, Dr. Demento announces and plays the "Funny 25" (the 25 most requested songs of the year for his show).
Pleased to find out that "Put on a Mask" was #8 for 2020! Also on the list? Randy Rainbow, Thomas Benjamin WIld III, Esq., and Tai Kwan Leep's "Boot to the Head." (Yes, Dr. Demento is still doing shows! He is on the internet only now: www.drdemento.com ).
"Put on a Mask" is available on Spotify, Amazon Music. iTunes, or as a CD single here .
Dec. 29, 2020
WINNER!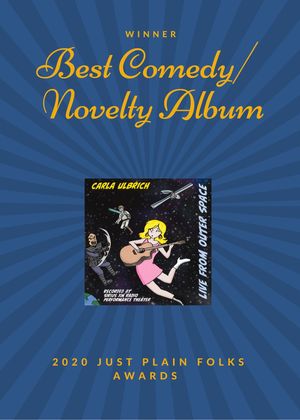 Delighted to announce that my CD "Live From Outer Space" was chosen as the *Winner* of the 2020 Best Novelty/ Comedy Album in the Just Plain Folks Awards! (I was also chosen as a Finalist in the Novelty/ Comedy Song Category for "Joe's Ex-Girlfriends"). There were 17,700 albums and 230,000 song submissions in 63 Song and 75 Album Genres, and this award program was years in the making. From JPF: "These awards are done for free by 4203 Volunteers from Music Fans to Writer/Artist Peers to Industry Professionals.  Real People who actually listen to all the music before voting on a single criteria: Does The Music Move You?" Just Plain Folks is a grassroots answer to the Grammys. I'm stunned and honored!
"Live From Outer Space" CD was recorded (live) at XM Radio's Performance Theater and released in 2009.
I have a very limited number of copies of the CD remaining, available here. 
Dec. 27, 2020
TOP 10 CD!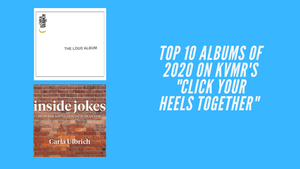 I made the Top 10 Albums of 2020 for DJ Mara Noelle's "Click Your Heels Together" radio show! #3. Carla Ulbrich  / The LOUD Album  /  Romantic Devil Records And Inside Jokes: Songs From Quarantine  /  Carla Ulbrich:   Carla's lyrics are hysterical.  She put out a cd and followed up with an online release of funny virus and quarantine related songs.  Carla is a rare gem.
Both CDs are available here.
Dec. 20, 2020
Joe and I are taking a little Holiday Break, so there will be no weekly livestreams on Christmas Day or New Year's Day. We will be back January 8, 2021. Happy Holidays!
Dec. 10, 2020
This month on the livestreams, I'll be sharing some Christmas poems written by Charlie McLellan. He's Utah's best kept secret- a wonderful writer. The poems are from the perspectives of characters in the Christmas story whom we often overlook. If you'd like a copy of these poems, you can find them here:
Through the Eyes of the Beholders/ The Tree  
http://www.lulu.com/content/paperback-book/through-the-eyes-of-the-beholdersthe-tree/18370408
Nov. 21,2020
Honored to be a part of First Night Winchester (Virginia) this year. The performances will be prerecorded, and free (and virtual) this year! My 10-minute set includes funny songs (naturally) and a message of hope to ring in the new year. https://firstnightwinchester.com
Nov. 14, 2020
No more cover tunes on livestreams! Online platforms such as YouTube and Facebook (and soon, Zoom as well) are cracking down on anyone playing songs they don't own the copyright for.  Because the online concerts are being monitored by bots, this *also excludes doing parodies of any songs written before 1925.* Hopefully there will eventually be a way for us performers to buy a license to play cover tunes, rather than just not being allowed to play them at all.
Penalties are severe: 3 copyright strikes on YouTube and they shut your channel down. Facebook rules are less clear, but they are known to mute your stream, or even delete your page altogether. This has actually happened to 2 people I know personally.
Going forward, I will be doing only original songs and songs in the public domain (which basically means songs written 1925 or earlier). Time to break out my Mel Bay songbooks! She'll be comin' 'round the mountain when she comes...
Nov.1, 2020
Delighted and excited to be a part of Renal Support Network's Hope Week, a free virtual conference for kidney patients and their caregivers. 5 days of informative and inspirational presentations by patients and health care professionals. This is the first year they've gone virtual (for obvious reasons), and it's free! I'll be presenting Tuesday 11/10 and Friday 11/13. RSN also offers free monthly support groups and free online exercise classes for kidney patients. RSNHope.org .
Oct. 17, 2020
Now available: "Safe for work" version of "Put on a Mask."
After getting feedback from numerous people about the bleeping of the F word being insufficient on the recording of "Put on a Mask," I have released a slightly tweaked new version of the song, with better bleeping. It's on Youtube and bandcamp. If you already bought the song and would like the new version at no extra cost, just get in touch at orders@carlaulbrich.com .
Sept. 18, 2020
The "Inside Jokes" CD has been added to the rotation on SiriusXM's Raw Dog and She's So Funny comedy stations!
August 2, 2020
New song!
Social justice-themed song "Stand Up and Act," written and recorded with fantastic political songwriter Lauren Mayer, is now available on iTunes, Amazon, etc., etc. and here for $1.
July 25, 2020
My new song "Put on a Mask" is the #1 most requested song on Dr. Demento this weekend!
Get it for 99 cents here !
August 15, 2020: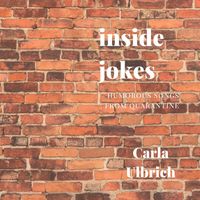 FREE CD! For a Limited Time
For limited time, you can get a FREE copy of my new CD:
"Inside Jokes: Songs From Quarantine"
Brand new! CDs have just arrived! Songs about wearing Sweatpants, annoying endless Zoom meetings, not drinking Clorox, and feeling nostalgic for things like traffic jams. 11 tracks (9 songs, with alternate versions of 2 songs). For a limited time, GET A FREE COPY! (Just pay shipping): http://www.carlaulbrich.com/inside-jokes-cd
As heard on Dr. Demento and SiriusXM Comedy!
Note: Due to technical problems with the offer website making the offer temporarily unavailable, I have extended this offer for several more weeks (or until I run out of CDs- whichever comes first).
July 3, 2020: #11 Artist for May!
Delighted to announce that I was the #11 most played artist for May on the Folk DJ chart!
This is on the heels of charting as the #6 artist for April. Many thanks to the wonderful Djs playing both The LOUD Album and Inside Jokes!
May 11, 2020: #6 Artist for April!
Delighted to announce that I was the #6 most played artist for April on the Folk DJ chart!
Much gratitude to the wonderful DJs who played both The LOUD Album and some of my new pandemic humor songs (and who continue to play them!).
May 10, 2020: YOUTUBE LIVESTREAM INFO
Youtube livestream is working again! I've got my streaming service to work with YouTube, so my Friday night livestreams are back on YouTube (as well as on Facebook).
Note the NEW TIME: 7:30pm (Eastern), by request from those in other time zones and also those who are getting home later from work).
HOW TO FIND THE LIVESTREAM: I'm still having trouble setting up a link ahead of time that sends you to the right place on YouTube, so here's a possible fix: subscribe to my YouTube channel (it's free) and hit the "notifications" bell, and you should get either an email or a pop-up notification on your computer/ device when I go live. You can just click on that notification and it should go directly to the live video. Here's the "subscribe" link: https://bit.ly/2UuGKhC
May 9, 2020; GUITAR STUDENT RECITAL!
I'm so proud of my guitar students! We had a great recital on Zoom on Saturday and everyone performed really well! Even those who were nervous did a great job. I have just a few time slots open for new students. If interested, email me at carlau@comcast.net
Here's a tutorial on how to play "Summertime Blues" by Eddie Cochrane:
May 5, 2020: LOUD ALBUM ON THE RADIO!
Delighted to report that The LOUD Album is being played on bunches of radio stations and programs, including Dr. Demento, SiriusXM Comedy, WIOX, WLRN, and FolkMusicNotebook.com, among others!
*New time this Friday: 7:30PM (Eastern) live-streaming on facebook and (we hope!) on Youtube.
May 1, 2020: NEW SONGS ON YOUTUBE
New songs on YouTube!   
"Sweatpants," my entry into the Tiny Desk Contest is on YouTube:
Also new on Youtube: the "Clorox Song" (Don't Drink it!)
April 25, 2020: UPDATE
Very pleased to report that our fundraiser concert on April 20 ("Does This Mask Make Me Look Fat? 5 Funny Females Fundraising for First Responders") drummed up over $1100 for Queens Together, who provide meals and PPE to those on the front lines. And it was a fun, funny concert to boot!
I'm committed to continuing the livestream concerts every Friday until it's safe to go out again, with new songs, a new madlib, live chat and new dumb Dad jokes (old jokes, but not repeated from previous episodes!). And sometimes, an appearance from Joe! 10% of all tips and CD sales go to a charity every week. The current charity is Elijah's Promise in New Brunswick, NJ, who provide a healthy meal every day to those in need.
I am now simulcasting on YouTube and Facebook. If one isn't working, then hopefully the other is. Ideally, BOTH! But it's a steep learning curve with the tech stuff. If you can't find me on YouTube at 6:30pm Eastern on a given Friday, please check Facebook. If you're not on Facebook, please know I always archive the show and the replay will be available by the next morning if not sooner.
April 4, 2020: CD REVIEW
New Review of the LOUD Album on Acoustic Live!
https://acousticlive.com/Reviews.html
March 30, 2020: LIVESTREAM CONCERTS!
Every Friday: YouTube Livestream concerts! 
I'm performing weekly YouTube livestreams of humorous songs about surviving the current madness, with live chat, song topic requests and viewer mail segments!   
Subscribe to my YouTube channel (and hit the "notifications" (bell icon)) to be notified next time I'm going live! 
Watch previous livestream concert replays here :   
Episode 3 (March 25:) https://youtu.be/E0SdH4NIqAs 
Episode 2 (March 20): https://youtu.be/ZJfdxL6ip7E 
Episode 1 (March 16): https://youtu.be/38IVkoQ1Sis
March 24, 2020
Carla Ulbrich coming to you again on 3/25/20 at 7:30pm EDST via live stream with humor and humorous songs about this madness we're all living through. 
https://www.youtube.com/playlist?list=PLG1JxoMLv7xC-VtZuc_f8BbQvj8W48hid
No tip jar this time. Instead, I ask that you donate your N95 facemasks to healthcare workers. Info here: 
or, if you sew, help create reusable cloth facemasks. Info here:  
If you don't have any masks sitting around, or don't know how to sew, please share these links with everyone you know.
Together, we can get much needed PPE (personal protective equipment) to the people on the front lines: healthcare workers.
March 20, 2020
During our time of social distancing, I'm doing livestream shows once a week on YouTube, taking your requests for song topics (about the current situation) and fulfilling the requests from last time!
Join the live chat, let's check in with each other and I'll play you what I created this week from your suggestions! We had a really good time on Monday's episode, so I'm doing it again.
March 19, 2020: CD REVIEW
Review of CD from DJ Dave Aton, WRFG
"Longtime Carla Ulbrich fans — and I'm one of 'em — may wonder if she'll ever lose her comedic edge. Maybe someday. But her new "LOUD Album" proves that's not anytime soon. As "Gluten-Free Diet" shows, the singing patient hasn't finished with her musical medical commentary, nor is that the limit of her wit. She also covers baseball, Dollar Stores, Star Wars, Elvis, plus more. And if you thought other lyricists had exhausted all the "Supercalifragilistic" parody possibilities, she's right there, too, with another one you'll enjoy many times. Happy to have this addition to my "Carla Collection," and you will be, too, even if yours is just now starting."  - Dave Aton, WRFG
March 17, 2020
SEND ME YOUR ANGST AND I'LL WRITE YOU A SONG.
Last night, I went live on YouTube and did a mini-concert of all brand new stuff (I wrote it all yesterday), inspired by song topics that were requested the night before. We had a live chat going and I worked your suggestions into the song "Germs, germs germs," as well as playing a few short songs on the requested topics like TP and hand sanitizer.
Here's a replay of the Monday, March 16 YouTube livestream mini-concert (we had fun!): 
If you've got something on your mind that you'd like to hear a song about, put it in the comments section under the video and I'll do my best to write something humorous about it!
The plan is to do a live broadcast every week with your song suggestions, until this is all over. (Hint: to participate in the live chat next time, I believe you need to be viewing in the YouTube app, as opposed to viewing on a browser).
It's all happening on YouTube here (subscribe! it's free!): 
Be safe, stay healthy and I'll try to help you smile once in a while.
Carla
March 16, 2020: SHOWS CANCELED
Out of concern for everyone's health (and now, pretty much by mandate of the CDC and local authorities), all April shows have been canceled. Likely beyond April. 
Meanwhile, I will be doing some internet shows on Facebook and YouTube. Find me on my artist page here:
or on YouTube here:
 Carla
March 14, 2020: CD REVIEW
The first official review of The LOUD Album is here!
https://www.hvy.com/wsp2469/now-playing-carla-ulbrichs-the-loud-album
March 14, 2020: NEW VIDEO
New music video:
"Things That I Trust More Than You"
Sick of being lied to? Here's a humorous song directed at pathological liars.
March 11, 2020: NEW VIDEO
New Music Video: At the Dollar Store!
New, fun lyrics video for "At the Dollar Store," track #2 off the new album:
March 6, 2020: GUITAR TUTORIAL VIDEOS
New guitar tutorials on YouTube
For you guitar players, I've posted several new videos for beginners on:    
how to play the G Major Scale (open) https://youtu.be/3EAn2bNblRw    
the C Major Scale https://youtu.be/j8NGgwivxao    
the E minor pentatonic scale https://youtu.be/adTLrYLljsQ 
as well as (simplified but still not for beginners):    
how to play "Colour My World" by Chicago:    
https://youtu.be/q13TGwMTfK4
And yes, I teach guitar lessons in my home and over skype/ FaceTime.
(I've been teaching since 1990 and have a music degree. I've taught at the National Guitar Workshop, Hummingbird Music Camp, Lander University and several guitar stores. I teach anyone from age 9 to 99. OK, my oldest student so far was 75, but just because no 99-year-olds have inquired yet).
Interested? e me! carlau@comcast.net 
March 1, 2020: PRE-RELEASE COPIES OF MY NEW CD! 
Hey fans! Don't tell the press and radio yet, but I have copies of my new CD and you can get one before the radio or press knows about it... I'll have them at shows!
or find it NOW on iTunes and Apple Music: 
https://itunes.apple.com/us/album/id1496558434 
or pre-order it here:
http://carlaulbrich.bandcamp.com/album/the-loud-album 
10 tracks of all humorous songs. We had a lot of fun making this thing and I hope you love it! 
January 22, 2020: CD is at the duplication plant!  
The new CD, The LOUD album, is at the duplication plant! 
It's 10 tracks, all humorous songs. 6 parodies, 4 originals, recorded mostly in Nashville in the studio with the very talented and funny Steve Goodie at the board (engineering and contributing guitars, drums, bass, even some vocals here and there). 
It's tons of fun and I think you're gonna love it! 
Here's what's coming: 
Things That I Trust More Than You    
At the Dollar Store    
You Are the Salt (doowop sendup or "pastiche")    
Stupefied By Maladies Defying Diagnosis (parody)    
Fat Elvis (parody)    
Take Me Out to the Overpriced Ballgame (parody)    
Now and Later (parody)    
Stuck at 13 (parody)    
You Can't Sit Down in a Stormtrooper Costume    
Gluten-Free Diet (parody) 
January 20, 2020: guitar tutorial: How to play "Please Do Something Stupid"  
By request, I've created a video tutorial on how to play one of my most popular and enduring songs, "Please DO Something Stupid.' 
The video is also a great primer for learning jazz chords! 
On December 18, 2019: New holiday song!  
It's the Most Fattening Time of the Year! You know what I mean, and that's my new song parody,. 
it's up on bandcamp for streaming or purchase right here: 
https://carlaulbrich.bandcamp.com/track/the-most-fattening-time-of-the-year 
December 08, 2019: New Song: The Peloton Song  
ICYMI, there's been a big flap about the Peloton exercise bike commercial. 
This already-fit looking woman gets an exercise bike for Christmas from her hubby. 
And, well, some people think the blowback about the commercial is much ado about nothing. 
Maybe it is. But this much I know: there are certain things you never buy as a gift unless your'e 100% certain the person wanted it. 
Like acne medication. Or a vacuum cleaner. OR exercise gear. 
Anyhow, here's the song I wrote about it! 
October 29, 2019: Article on Music as a Healthy Distraction from Chronic Illness  
https://themighty.com/2019/10/music-distraction-chronic-pain/ 
A terrific article written by one of my guitar students on the power of music to distract from chronic illness/ chronic pain. 
On October 22, 2019: CD update  
Just had a great session with the immensely talented Bob Malone, who added keys to 4 songs. 
We now have so much great talent on the recording, we have a problem- there's too much music happening on some of the songs! and all of it is great. I had to explain the phrase "embarrassment of riches" to my producer (He knew we had too much great stuff- he'd just never heard that turn of phrase). 
So, we're gonna turn up the fiddle here and down there, more telecaster here, less there, banjo, 2nd guitar, dobro, keyboards, a veritable soup of amazing players all playing tasty stuff, but we have to make some choices. 
I still don't have a release date set, because after making 7 of these things, I've learned everything takes longer and costs twice as much as you expected. I only needed to have one time where I held a CD release concert with no CDs on hand to learn my lesson! 
Meanwhile, while you're waiting, here's a goofy video of an intentionally depressing birthday song: 
And the latest guitar "how to" guitar video ("Hey There Delilah," a great first fingerpicking song): 
September 10, 2019: News on the Upcoming CD  
Looks like we're adding even more amazing talent to the upcoming CD! 
On keyboards: We're getting my amazing (and fun) friend Bob Malone for 3-4 songs. Bob travels the world both as a solo act and as a member of John Fogerty's band. Back before he was so famous, we used to gig and even write songs together (remember "We Don't Need a Walmart?"). 
On telecaster: Erik Halbig, who I know from 20+ years ago (we used to teach together at the National Guitar Workshop), will be spicing things up with some hot country picking' on 4 songs. He produced 2 songs for me in 1998 ("What If Your Girlfriend Was Gone" - twang version and "Boy Wonder" wall of sound version). Erik plays with all the big country acts- Ty Herndon, Sugarland, you name it. Like Bob, he is really in demand but he's on board for this project! 
On dobro: Rob Ickes, a longtime friend of my producer (Bob Harris), is a Grammy winner and 13-time Dobro Player of the year (International Bluegrass Music Association). 
On fiddle: Another award-winning world-class player Andy Leftwich who Bob Harris knows and works with. 
On 2nd guitar and other miscellaneous stuff: Bob Harris, producer, engineer and sideman to the stars (longtime sideman for Vassar Clements). 
This thing is already sounding great and these players are just going to take it up to new heights. I feel so fortunate to have these players working on my project! You won't believe your ears!  
On September 09, 2019: Carla's YouTube Guitar Tutorials: The F-Word Song  
The latest guitar tutorial is up! 
Learn how to play my most-requested song "If I Had the Copyright" (The F word song)! 
You, too, can be politely asked to never come back to a venue again with that filthy mouth (or you can use the bleeper- instructions provided). 
Carla's Guitar Tutorials: House of the Rising Sun How-To 
On September 03, 2019 
I've just posted a YouTube lesson on how to play the classic song "House of the Rising Sun." 
If you've ever wanted to learn this, give it a shot! 
I'm in the studio working on a new CD! 
On August 18, 2019 
 I'm excited to announce that I'm about halfway done with a new CD! 
It's my 8th CD and my first studio recording since Totally Average Woman (late 2015) - and I'm really happy with how it's going.  
I'm doing half the songs in Nashville with the ridiculously talented Steve Goodie (who is also very funny), and the other half in New Jersey with the equally talented Bob Harris. 
I'm recording the country stuff in New Jersey and the rock stuff in Nashville. Because logic. 
I think you're gonna love it. 
Stay tuned for the latest! 
Carla's YouTube Guitar Tutorials: How to Get a Pick Out of a Guitar 
On July 15, 2019 
Dadgummit! My pick fell into my guitar again! 
Learn how to quickly and easily retrieve that pick without breaking the guitar open. 
I've been using this secret for years! 
USA Song Contest Finalist 
On February 08, 2019 
Just got word that my song "Totally Average Woman" was chosen as a Finalist in the USA Song Competition (in the Novelty category). 
The contest is done- the song will not advance further, but this is a huge contest, with thousands of entries, so being a Finalist is indeed an honor. Congratulations and thank you to my co-writers, Joe Giacoio and Steve Goodie. 
New Live CD is here! 
On January 12, 2019 
This just in- and I do mean *just* in: 
A brand new CD, Live from FuMPfest, is here! 
Recorded entirely at FuMPfest (FuMP = Funny Music Project, check 'em out if you're unfamiliar : www.thefump.com ), it's a mix of standup comedy and funny songs. 
I had pretty bad hayfever at that time, which seemed to make me funnier. Too congested to be nervous perhaps? 
It's a mix of previously recorded songs and totally new stuff, and if you enjoy live recordings and/or haven't been able to make it to a live concert of mine, this is a great chance to make up that missed experience, flaws and all (this has not been "fixed" in the studio. All we did in the studio was cut it up into separate tracks, so it's wouldn't be one long recording).  
Get a copy at www.carlaulbrich.bandcamp.com 
Madam Opus Compilation CD of All Funny Women 
January 03, 2019   
I'm excited to be included on the compilation CD project "Madam Opus," which features all women doing all funny songs. 
Here's my contribution to the project: 
https://madamopus.bandcamp.com/track/stupefied-by-maladies-defying-diagnosis 
This album features songs by The Doubleclicks, Jessica Delfino, Carla Ulbrich, Reformed Whores, Meri Amber, and many more, including Lauren Mayer's song "The Sexual Harassment Prevention Song," the video for which has been viewed over 3 million times, and Carrie Dahlby's parody "Don't Talk About Size" which came in at #21 on Dr. Demento's year-end Funny 25 countdown of the most requested songs of the year. 
Winner, Winfield Song Contest (Humorous Category) 
On September 19, 2016   
We're going' to Winfield! 
The Walnut Valley Festival (in Kansas) has been on my bucket list for a long time, and we had already decided to go when I learned that my song "Gotta Start Smokin' " was selected as one of the 2 winners for the Humorous category of the song contest there (You didn't think I'd win the prize in the "love songs" category, did you?). 
I'll be playing that song (don't blink! You'll miss me!) Thursday morning (Sept. 15), as will the other Thursday winners (there is a set of winners playing on Thursday and a different set of song contest winners playing on Saturday- same contest, 2 winners in each category). 
#5 artist, #6 song, and #9 album for March 2016! 
On April 02, 2016 
Folk radio was very good to us in March! 
I was the #5 artist, with the #6 song ("Totally Average Woman," a blues spoof & the title track from the CD) and the #9 album ("Totally Average Woman"). 
More on the March Folk DJ chart: 
http://acousticmusicscene.com/2016/04/02/top-albums-and-songs-of-march-2016-folkdj-l/
Interview with Ron Olesko on SingOut! 
On March 24, 2016 
Had a great time visiting Ron Olesko on March 5 in the studio of WFDU. 
He has written a very nice blog post about our visit, complete with a stream of the interview, in case you missed it. 
http://singout.org/2016/03/24/carla-ulbrich-re-defines-average/ 
"Joe's Ex-Girlfriends" chosen as Finalist in International Song Contest (winners TBA) 
On March 18, 2016   
"Joe's Ex-Girlfriends" (a.k.a. "track 1" on the new CD) has moved up from "semi-finalist" to "finalist" in the comedy category of the Internationa; Song Contest. 
Here's the list of finalists (you can listen to every single song here!): 
http://www.songwritingcompetition.com/winners 
Logan Award for Excellence in Comedy Music! 
On March 06, 2016 
"Carla Ulbrich, a Somerset, New Jersey-based comical singer-songwriter, was recently chosen as the winner of the 2016 Logan Award for Outstanding Parody Song for "Cheek To Cheek." Set to the tune of Irving Berlin's song of the same name, this "Cheek To Cheek" is a witty commentary on cosmetic improvements (plastic surgery, botox and steroid injections) and appears on Totally Average Woman, Ulbrich's newly released album of all humorous material." 
"Mostly Folk" Episode 156 with host Artie Martello 
On March 05, 2016 
Artie Martello and I talk about life, hospitals, Ernie and Bert, and my new CD on Episode 156 of "Mostly Folk." 
Official Radio Release of "Totally Average Woman" 
On March 01, 2016   
It's March 1, the official radio release date of "Totally Average Woman!" 
Many of friends and crowdfunders- and a handful of DJs- already have copies of the CD. 
It's time to let the rest of the world know about it! 
What kind of CD is this? 
Totally Average Woman has 5 funny original songs, 7 silly parodies and a ridiculous bonus track. Need tips on choosing a beverage? Traveling to China? Getting away from someone who won't stop talking? Why, this CD is practically a public service announcement!. Without all that boring useful info. 
Featured Musicians: 
Produced by Bob Malone and Steve Goodie, the album features the talents of Amy Engelhardt (The Bobs), Bob Malone (John Fogerty), Tim LeFebvre (Derek Trucks), Mike Baird (Journey, Hall and Oates, Donna Summer), Bob DeMarco ("Ellen," "CSI," "Extra"), and Chris Trujillo (Toto, South Park). The genres bend to fit the topic or (for parodies) to match the original song; folk, blues, swing and pop-rock (the common thread is humor). 
Above Average Reviews! 
"Enter the delightfully twisted musical mind of Carla Ulbrich through her new CD, Totally Average Woman. Ha! I detect nothing average about Carla's high IQ songs. Her sharp, well-tuned humor inspires a melody of chuckles, guffaws, oh's, ah's, aha's, or oh no's, and you might hold your belly-laugh until your stomach becomes flat." - Mara Noelle, KVMR-FM 
"Perhaps the northeast's funniest interpreter of human foibles has given us another gift. "Aunt Flow Rag" rendered me helpless with laughter... May this review be an unofficial declaration of Carla's status as way above average?" - Richard Cuccaro, Acoustic Live! 
"The wonderful thing about Carla's songs is that many of them portray truth about relationships, living, eating, etc. Fantastic!" - Jon Stein, Hootenanny Cafe, WTBQ 
links links links: 
Preview the entire CD here: http://www.carlaulbrich.bandcamp.com 
Airplay Direct – available March 1, 2016 http://www.airplaydirect.com/music/CarlaUlbrich/ 
EPK: www.reverbnation.com/carlau 
FCC Warnings: There are a few "naughty" words (track 1, 2) but they have all been bleeped and there are naughty words in Mandarin Chinese (track 5) that are not bleeped. 
Totally Average Track List: 
1) Joe's Ex-Girlfriends 2:08 (mid-tempo garage rock) Thanks, ladies, for lowering the bar! After all of you, Joe doesn't even notice I'm clinically insane. FCC: one bleeped word (at 1:28) 
2) Gotta Start Smokin' 2:26 (mid-tempo 20s style swing) Smokers are rewarded with work breaks ("smokers' rights") while the non-smokers are stuck inside with no work break, picking up the slack. FCC: 2 bleeped words (at 1:44, 1:48) 
3) Man Pants 1:06 (fast swing, parody of "American Bandstand") Guys, we don't need to see your underwear. You look silly. Pull up your pants. Some cities have passed "pants laws." 
4) If You're Going to China 3:31 (mid-tempo Beatles- style acoustic rock) Short skit intro. Planning a kung fu trip to China, Joe was given 80 pages of advice, but didn't have time to read it. I put it in song form. FCC: Swear words in actual Mandarin Chinese (background vocals) (1:23, 1:30, 1:44, 2:07, 2:15, 2:29) 
5) Totally Average Woman 3:25 (slow blues shuffle) Blues guys are always singing about how mean or how fantastic their woman is. What about the average woman? 
6) Cheek to Cheek 3:18 (uptempo jazz, parody of "Cheek to Cheek") Liposuction, botox, lip injections- people are actually getting the fat sucked out of their behinds and injected into their faces. 
7) Aunt Flow Rag 1:36 (uptempo swing) One woman's PMS makes us all suffer. 
8) Dr Pepper 1:18 (midtempo 70s pop, parody of "Be a Pepper") At a conference lunch, the only thing to drink was Diet Cherry Vanilla Dr Pepper. Think I'll just stay thirsty. 
9) Ragnarok 2:05 (mid-tempo pop rock, parody of "Fraggle Rock") skit + song about the Norse version of the apocalypse, featuring a "civilian" thrust into the world of gamers. 
10) Break Away 2:46 (fast pop rock, parody of "Break Away"). Everything I think but can't say when trapped by someone who won't stop talking. 
11) Needless Dissection 3:17 (slow 70's ballad, parody of "Rainbow Connection"). A (gentle) diatribe on classroom animal dissection: traumatizing children and causing species extinction.Frogs populations around the world are in serious decline. 
12) Swamp Thing 2:53 (slow 60s rock, parody of "Wild Thing") There are too many unsung heroes in the comic book world- literally. As in they don't have their own song. 
13) Before Autotune 0:27 (many tempos, modern) Commentary on the overuse of pitch correction and other "studio magic" in the music industry. 
International Song Competition Semi-Finalist (Winners TBA) 
On February 29, 2016   
"Joe's Ex-Girlfriends" is a Semi-finalist in the International Song competition. 
Finalists will be announced within a couple of weeks, and winners will be announced once the judging process is completed. 
http://www.songwritingcompetition.com/semi-finalists.html 
USA Song Competition: Finalist, Comedy/ Novelty Category 
On February 11, 2016   
This just in: 
"Joe's Ex-Girlfriends" (the song, not the gals) won "finalist" in the 2015 USA Song Competition (Novelty/ Comedy Category). 
I, of course, won Joe. 
#5 for the year on the Dr. Demento Show! 
On December 26, 2015 
How exciting! 
My parody "Dr Pepper" was #5 for the year on the Dr. Demento Show. (Rankings are based on listener requests, so thank you to those who requested my song!). 
Live with host Jon Grayson on WMSC (syndicated!) 
On December 15, 2015 
Listen here for a playback of a live interview with me and host Jon Grayson on "Music Monday," WMSC 
http://stlouis.cbslocal.com/2015/12/14/overnight-america-podcast-december-14th-2015-carla-ulbrich-gary-hoey/ 
CD Reviewed in "Acoustic Live!" 
December 01, 2015 
Read "Acoustic Live!" online here: 
http://acousticlive.com/December_2015.html 
CD is up on Amazon, iTunes, more 
On November 06, 2015   
That "Totally Average Woman" is really getting around... 
Find the new CD here: 
- iTunes (review it, preview it, buy it, put it on your wish list!) 
- Amazon (review it, preview it, buy it, put it on your wish list!) 
- CDBaby 
- bandcamp (these orders actually come to me, and I ship them, so if you want a signed CD, go here) 
- Southern Fried Filk (mail order/ at filk conventions) 
- Dodeka Records (mail order/ at filk conventions) 
- 150 other places: "Totally Average Woman" will show up on Shazam, Rhapsody and 150+ digital services (if it hasn't already). 
New Music Video: Dr Pepper 
On November 03, 2015 
A while back, I was at a conference and the only thing to drink at lunch was Diet Cherry Vanilla Dr Pepper. I just stared at the can, considering just going thirsty instead. Dr Pepper already has 23 flavors to begin with- now my tongue also has to process Diet, Cherry and Vanilla? And my kidneys- what are they going to make of this concoction? That's where the song was born. And now we have a video. 
"Dr Pepper" features Tom Rockwell (mastermind of The Funny Music Project), Joe Giacoio (my other half!), and my spontaneously-recruited neighbors Todd, Olivia and Logan. And 24 cans of soda. 
http://www.youtube.com/funnymusicproject 
First Official Review of the CD is in! 
November 01, 2015 
 Ulbrich is one lady who put a smile on this critic's face without taking off her go-go boots. (Yeah, yeah, but look at the cover art, OK?) This reporter has said it before, but it bears repeating: Carla Ulbrich shouldn't be taken any less seriously than other gals with guitars. Truth is Ulbrich is dead serious . . . about putting a smile on your face 
http://m.axs.com/carla-ulbrich-is-not-your-totally-average-woman-68948 
Flashback: Carla on 7-Second Delay Jan 7, 2009 
On October 06, 2015 
Someone mentioned the very fun show "7-Second Delay" with host Andy Breckman (very funny songwriter and producer of the fabulous TV show "Monk"). I had the pleasure of appearing on that show a while back. I just looked it up on line and it's still there in the archives! 
For your listening pleasure (scroll down to Jan. 7, 2009): 
https://wfmu.org/playlists/SD 
Music Video! 
On October 04, 2015   
The crowdfunder for the new CD was such a success that I set a "stretch goal" to fund making a music video. 
And here it is! 
"Joe's Ex Girlfriends" 
The New CD is here! 
September 29, 2015   
The new CD is here!Have a listen!!! (or go get a copy!): 
https://carlaulbrich.bandcamp.com/album/totally-average-woman 
"Totally Average Woman" is my 6th CD, made with lots of help: 
- incredibly talented producers Bob Malone (he also produced my 3rd CD, "Sick Humor" and Steve Goodie. 
- a batch of fantastic musicians (including Bob and Steve) 
- fabulous photographer Rick Stockwell 
- super duper graphic artist Jake Thomas 
- my crowdfunder supporters! Yeah! 
All funny songs- 5 originals, 7 parodies, and one ridiculous bonus track. 
I do believe this is my best project yet and I can't wait for you to hear it! We had a lot of fun recording this, and I think it shows. 
In another week or so, it'll be out on itunes and all those other digital outlets, at which time I will release the totally above average music video we made for the first track, "Joe's Ex-Girlfriends." YEAH! 
Dr. Demento airs interview with me, actual size 
On September 26, 2015   
This past weekend, Dr. Demento aired the interview we recorded with him when we were in California a couple weeks ago. 
"We" being me, and the duo "actual size" (Steve Goodie and Andy Corwin). We split a bumch of shows together, and Steve was a most frightening Klingon (in the best way) for "Duet with a Klingon" and an equally convincing dork on "Ragnarok." I enjoyed harmonizing on some of their songs as well. 
Dr. Demento was once aired on many stations 9I think 200+) in his heyday (70s-80s). He has never stopped doing the show, but it is now only available via internet (http://www.drdemento.com). 
NPR features the F-word (If I Had the Copyright) Song on Weekend Edition 
On September 19, 2015   
Imagine my surprise! 
I wake up and see texts from several friends telling me my song was featured on NPR's Weekend Edition today, as part of a segment about the F Word. 
I sent them this song over 10 years ago, and I guess they've kept it in their back pocket since then, because they used a very old version (the one with sound effects instead of bleeps). Anyway, Yay! 
Here's a link in case you want to have a listen to the story: 
http://www.npr.org/programs/weekend-edition-saturday/2015/09/19/441701711/weekend-edition-saturday-for-september-19-2015?showDate=2015-09-19 
Keepin' It Clean 
On September 11, 2015 
hey hey! nice article! 
I'm so serious about being funny... 
http://www.northjersey.com/arts-and-entertainment/comedy/clean-comedian-carla-ulbrich-coming-to-church-sept-27-1.1407583 
CD News, California tour with actual size 
On August 20, 2015 
As of yesterday, hundreds of copies of the CD "Totally Average Woman" are on the way to my house! 
Which means, for those of you who have pre-ordered, it will be on the way to YOUR house anon (that's fancy talk for "any day now"). 
I've got a mile-long to-do list, but August was slow in terms of gigs and guitar students, so I took some work as a background actor (a.k.a. "extra," a.k.a. human scenery) for some TV shows to keep the cash flowing so I could pay the bills and have some money to get help with my 2nd (and possibly 2rd) music videos for this CD. You might see me in the background on The Affair, Billions (doesn't come out 'til next year), Orange Is the New Black, Blue Bloods. Or more likely, you won't see me. 
Working as an extra makes for long days standing around in high heels and a stick-on bra (and a dress...)- well, it makes me even more grateful to be doing what I do most of the time for a living: singing ridiculous songs. If you're looking for some work where you get paid very little, are frequently bored, have to stand in the heat and pretend it's cold out or stand in the cold and pretend to be warm, usually in uncomfortable shoes- check it out (the extra thing, not the funny song thing)! I'm getting my 15 minutes of fame, 1/2 a second at a time. So, only about 1790 more 12-hour shoots and I'll achieve my 15 minutes of fame. 
Speaking of ridiculous, really looking forward to sharing the bill with fun music duo actual size (Steve Goodie and Andy Corwin) for several shows in California. Steve, you may know, was co-producer on this new CD of mine, and also lent his vocal and instrumental and even writing talents to several tracks. Hopefully he will reprise his role as Dork #1 for the song "Ragnarok" live in concert. I *will* have copies of the new CD with me! Can't wait for you to hear it! 
#1 on Dr. Demento! 
On July 25, 2015 
Well look at that! The CD is not even out yet, but the preview track, "Dr Pepper" was the #1 most requested song on Dr. Demento last week, and #5 this week. Thanks to folks who requested it! Here's the link if you'd like to request it again for next week! 
http://www.drdemento.com/request/ 
HOW TO BE IN MY NEW MUSIC VIDEO!! 
On May 15, 2015   
HEY! Want to be in my "man pants" music video? 
Send a picture a short video of yourself wearing horrible pants gone wrong, meaning worn wayyy too low, with underwear showing. 
Or wayyy too high. Or plaid, or bell-bottomed with the "keep on truckin'" pose. 
You can be walking, attempting to scurry away, or just standing there looking goofy, as long as your pants are inappropriately high or low (and you're wearing underwear) or otherwise remarkable. And you don't have to be a man. You can be a woman, or a kid. Or anyone or anything wearing pants. 
I will be taking pictures and video at fumpfest as well, so if you're coming to that, bring your kooky pants! 
Your reward? A credit in the music video (and being part of something ridiculous). 
Send your "pants" photo/ short video (and how you wish to be credited if your pants are included in the video) to: carlau@comcast.net 
Indiegogo Campaign a Huge Success! 
On April 07, 2015 
Wow! The Indiegogo Comedy Music CD Pre-Sale has been a huge success! 
We met the goal! 
We met the stretch goal 
We met the 2nd stretch goal! 
Thank you so much, everybody! 
This means there will be an even dozen fully-produced songs (with backing band) on the CD, and my first-ever real music video! 
Because this campaign was fully funded, it is eligible for "InDemand" (extending the campaign, in a limited capacity). 
It's too late to get your name in the liner notes or to get a "You Are Awesome" video, but you can still pre-order CDs postage-free (or a download) or buy a house concert.  
https://www.indiegogo.com/projects/pre-sale-new-carla-ulbrich-funny-song-cd/x/8109727 
What will I do with more funds? I have a really fun idea for a video "commercial" for the CD, and I have just the guy to help me pull it off. There's also the excellent option of making another music video. There is definitely more than one song that lends itself to a funny video on this CD. 
Thanks again, friends, for making it possible to make a fabulously fun CD, and for all your words of support and encouragement. 
xoxo 
Carla 
New Comedy Music CD Pre-Sale Now Happening! 
On March 05, 2015 
It's happening! The new comedy CD is coming! 
Got a great band, great producer, and some really fun songs (if I do say so myself). 
Totally Average Woman 
Man Pants 
Thank You Joe's Ex-Girlfriends 
Goin' To China 
Needless Dissection 
Gotta Start Smokin'... and more (still making decisions on which songs will make the final cut). 
Pre-order a copy, or buy some handwritten lyrics, or a guitar lesson- check out the page! 
http://igg.me/p/pre-sale-new-carla-ulbrich-funny-song-cd/x/8109727 
Carla Ulbrich and Amy Engelhardt Exclusive Interview 
February 15, 2015 
We sat down with award-winning journalist Brynne Whitney to talk about our upcoming online show... 
How did you two meet?    
  
CU: It was either when she sang backup for me on my Sick Humor album (check out "oooooooh pants!" on "the colon")... or through the tin foil hat society.    
  
AE: YES! And am pretty sure it was through Bob Malone, who worked on both of our albums and who's now John Fogerty's keyboard wizard. And me singing "oooh, pants" is also the bonus track on Sick Humor! 
What would you tell Amy about New Jersey that she may not already know, having grown up there?    
  
CU: 1) New Jersey is not a normal place. All the pressure cooker vibe of New York City without the perks. Other than that, it's great.    
     
2) You can get dairy-free coconut milk ice cream on the pier in Asbury Park. Oh. and Asbury Park is no longer a war zone. It's been gentrified. 
AE: Haight-Asbury? I dunno. I think I'd just cry if I went back. Especially if the tea cup ride and the Tilt-a-Whirl are gone. 
What's your favorite thing about doing Live, Streaming shows?    
  
CU: People who tune in who otherwise would never see me live (because they are in Germany or some other place I've never played)    
  
AE: Agreed. I also like the talkback aspect – the chatroom interaction. 
What's your least favorite thing about doing Live, Streaming shows?    
  
CU: Lighting! can't seem to get that right.    
  
AE: The fact that people still don't get 1) how great they are and 2) how inexpensive they are – they don't have to get up from their own couch and still don't tune in?  CRAZY! 
Where was your oddest gig?    
  
CU: I was going to say playing the nudist festival, but I did that 4 times. Or maybe the time I played for a wedding, and it was just me, the couple and the preacher. But I think it was the boat launching party where the boat couldn't be launched because they didn't realize a wooden boat had to be launched in salt water so that the wood would swell & the the seams would shut. So we all stood around the boat as it sat on the trailer in the yard, me leading sea shanties.    
  
AE: A million years ago, when I was Christmas caroling in Los Angeles professionally (yes, singers do that!), a friend and I did a duo gig for 90 minutes on a trolley car shuttling people from a private parking lot to a swanky party. But the party was in a house in a cul-de-sac and the trolley took 20 minutes to turn around. I think we sang for a total of five minutes and tried not to laugh. 
What was your favorite subject in high school?    
  
CU: Suntanning! Then band. Then PE. (Can you believe my parents are both PhDs?) 
AE: History (preferably Egyptian/Greek/Roman) and languages. (I know, I know – the Geek Alarm is deafening.)    
  
Black, cream or sugar?    
  
CU: Coffee is not my cup of tea. 
AE: REGULAH. (Only an East Coast homie will get that.) But with Splenda.    
  
Bikinis or briefs?    
  
CU: Wait what- are you asking whether I wear men's underwear?    
  
AE: That answer is not free. 
What's the newest song will you play in the show?    
  
CU: I haven't decided yet. I may not have written it yet. I'll probably play "Totally Average Woman" (kinda new), and maybe "Stupefied By Maladies Defying Diagnosis" (more new), or possibly "Thank You, Joe's Ex-Girlfriends" (even more new). I think I've only played that once publicly.    
  
AE: Likely "The Dogz," which is an "answer song" to the question posed a few years back, "Who Let the Dogs Out?" 
Automatic or stick shift?    
  
CU: Automatic in New Jersey and NY City, stick everywhere else. I haven't found a car that does both yet.    
  
AE: Automatic. I don't have time to shift, baby. 
Where is this double-bill online concert taking place? 
CU: For us, in my dining room, most likely. Because that's where the piano is. For everyone watching, just about anywhere on the planet-wherever you can get a connection to the internet! 
Sun., Feb. 22, 8pm Eastern https://www.concertwindow.com/carlau 
About an hour, pay what you like, make comments/ requests in the chat room. 
Coming in 2015: New CD and Monthly Online Concerts 
January 09, 2015 
Happy New Year! 
I know, I'm a little late with that. But my Christmas tree is still up, so it's all relative. 
I dipped a toe into the "streaming concert world" in December, putting on a double bill with humorous songwriter and friend Todd Chappelle. We had a great time. It was a little informal, but kept a great pace and we definitely had synergy. 
So I'm gonna put on a series of these, to introduce you all to some more of my funny friends who you maybe haven't heard. 
Coming up: 
- Comedy Rapper and brain of The FuMP (Funny Music Project) Devo Spice 
- Incredibly talented Singer and fabulous songwriter Amy Engelhardt 
- Really funny guitar comic/ funny songwriter Rob Paravonian 
- Smart and funny (and handsome and adorable) Joe Giacoio 
I have a few others that are not confirmed yet, but I know you will love. 
Every concert will be pay what you want, tip if you like. 
I heard a rumor somewhere that I might have been in the studio working on a track yesterday for a possible new CD. Could this be true? It's been 6 years since I released a CD. Maybe if Star Wars can finally release episode 7, Carla can create and release CD #6. Keep watching this tabloid for more news... 
Look For Me in Sharknado 2! 
On July 31, 2014 
I hope you're having plenty of laughs and fun this summer. And I certainly hope you've avoided getting caught up in a Sharknado. 
What?! OK there's no such thing as a sharknado, unless you count the movie "Sharknado," from the SyFy network (My Dad, an atmospheric physicist for 40+ years, finds the idea of a sharknado endlessly amusing.) It was released last year and was a surprise hit, so they made a sequel (Sharknado 2). Joe and I are background actors in it! Our "acting" mostly consisted of pretending it was a nice summer day when in fact it was 28 degrees and breezy with flurries in February. 
Colbert! 
On July 25, 2014 
This post is for all you Colbert Report fans. A couple weeks ago Stephen did a threatdown: all-bear edition, and demanded that Weird Al write a parody called "Manburger in Bearadise." Well, Al is a little busy, having just hit #1 on Billboard for the first time in his career. So I wrote the song. I got to sing a chorus to Stephen himself when I attended the Colbert Report taping last week. 
Here's the song (please share with your Colbert-watching friends!). 
http://youtu.be/vWckDvDJDsU 
You can also hear/ buy the song here: 
http://www.thefump.com/fump.php?id=1824# 
The Newsroom 
July 16, 2014 
Cross something off my bucket list! 
I've wanted to be a background actor ("extra") for a long time. 
Not as a career, just to do it. I signed up for it over 10 years ago in Florida. I got one phone call. 
I called them back 20 minutes later but they had already filled all the slots by then. Lesson: If you're waiting for phone calls about work, keep your phone on, ringer on, and by your side at all times. I never got another call from them. Well i tried again this year, only out of New York (lots more work in NYC!) and kept my phone handy. 
I got to be a background actor in The Newsroom (HBO, Jeff Daniels, Sam Waterston). During filming break, Sam sat down RIGHT next to me! AAAAAAAGGGHHH! Awesome. Huge Law and Order fan. I spoke not a word, just basked in his amazingness. Extras aren't supposed to talk to "the talent." We're really mostly moving scenery. 
Days being an extra are very long, like 10-12 hours. Thanks to actors' unions, they feed us (even us non-union people). But that doesn't stop them from having us wear fall clothing and coats when it's 84 degrees and sunny. 
If you have HBO and want to play "where's Waldo," I'm a pedestrian in a light tan coat on the sidewalk going the opposite direction from Sam, across the street from Julliard (Why did the extra cross the road 14 times? To get paid). In another scene, I'm walking down the stairs inside Julliard on the left part of the screen. 
The Power of Laughter - article on Bowflex Insider 
On September 16, 2013 
New article on "the Power of Laughter" published on Bowflex Insider (I'm the author): 
http://www.bowflexinsider.com/laughter-as-stress-management/ 
World Positive Thinkers blogtalkradio Interview 
On September 10, 2013 
A new interview with hosts Pam Lontos and Mr. Positive, talking health, humor, and overcoming adversity. 
http://www.blogtalkradio.com/worldpositivethinkers/2013/09/10/health-tips 
Don't Bring the Kids (May Newsletter) 
On May 16, 2013 
Don't bring the kids! Except for this Sat. 
Greetings friends, fans, Klingons, spammers and the IRS- Hope all is well with you. Well maybe not so much the spammers. 
Speaking of spam I recently migrated all of your e mail addresses into this program that's connected to my website. This may mean that this message ended up in your spam filter. In which case... you're not reading this right now. Hmm. Well that was a pointless thing to mention. 
As you know, my songs and jokes are usually clean (as long as you don't mind a little poop humor) but I cannot control what happens when other acts are on the stage. Since there are 49 *other* funny songwriters in NYC on May 31, and I was part of this event last year, I strongly suggest you do NOT bring the kids. Unless you can afford a lot of therapy later. Don't mind swear words and a little grossing out? See ya there. 
I can safely invite people of all ages and sensibilities to the show in Nutley NJ, which will be fun. The other performers on the bill are the folks who introduced me to the NJ/ NY folk music scene in the late 90s. So they get either the credit or the blame for me ending up in New Jersey. And for encouraging me in my pursuit of actually performing my ridiculous songs instead of just the "ose" I used to write ("ose" as in "ose, ose and morose"). 
One more thing- I started a playlist on youtube: "funny medical songs." If you think of any good ones I missed let me know and I'll add them. http://www.youtube.com/playlist?list=PLG1JxoMLv7xDn7Cctn0aTrsKKXL0JaFpn 
Benefits of Laughter (April News) 
On April 02, 2013 
Did you ever wonder why, given the same diagnosis, some people thrive and others don't? Learn about the traits of a survivor at a Free Show this Wed. in Wayne, NJ: "Laughter is the Best Medicine." See calendar page for details. 
I recently went back to Clemson (my hometown) for a short visit. Saw the whole family, including Dad (he lives in a health care facility now; he has Alzheimer's, but he still knows who everybody is, and he is fun to visit, always happen to see me. The nurses love him, and no one seems to mind if he is wearing 2 pairs of pants, mismatched shoes, or 4 shirts. They do try to stop him from showering 4 times a day, though. You have to pick your battles...).  While I was in Clemson, I also cleaned out the attic (Mom is selling the house and moving) and I found my beloved bottlecap collection ! O joy! 
The downside of this hometown visit is that while I was gone, Joe (my husband), ended up in the hospital with blood clots in his lungs (pulmonary embolisms)- and I wasn't home to take care of him - or the dog. I got home the next day. He was in the hospital for 4 days, and was quite the jokester with the nurses. They were attaching his electrodes (heart monitor) and he jerked around, pretending he was getting electrocuted. Nearly gave the nurses a heart attack, but they got a good laugh out of it. He apologized for scaring them more than he meant to, but they were laughing and said "Laughter is the Best Medicine!" (Funny, I'm doing a show this Wednesday with exactly that title.) 
I was visiting him when they announced he was going to be released. Well you know how long it takes from saying you'll be released to actually being released (hours!). Luckily, it was bingo day! They bring cards around and the announcer is on the hospital's closed circuit TV calling the numbers. I won 15 times. I think there were only 2 of us in the whole building playing- 3 if you count the announcer. The prizes are all plastic things like backscratchers and bag clips, and they all say "St Peter's University hospital" on them... well, it's not the prize, it's the thrill of victory. 
We were about to leave when we spotted the food cart in the hall. He stayed for dinner, if that gives you any idea what an awful cook I am. Once he was done with his cheeseburger (yeah that's what they serve in the cardio unit!) he came home to a very happy dog. He is doing fine and has a great doctor. 
I'm a muppet! I'm a muppet! I've always wanted to be a muppet! 
The multitalented Luke Ski put together a spoof of the muppet show for the opening of the Marscon science fiction and funny music convention. If you're a fan of the muppet show, or comedy music, or better yet, both, you will really enjoy this: http://www.youtube.com/watch?v=CLGsgi_L0os 
Acoustic Guitar Project 
On March 15, 2013 
I was invited to take part in the Acoustic Guitar Project, where each musician in one of 4 cities - in this case New York, but I guess they stretched New York out a bit to include Central Jersey- gets one week to write a song using only the guitar and Zoom unit that's being passed around. Once your week is up, you choose the next musician who gets the guitar and the assignment, should they choose to accept it, to write and record a song in a week on that guitar. I passed the guitar off to Arlon Bennett. 
My contribution was "Totally Average Woman." I had actually already started that song before I got the guitar, but in the rules that was allowed, as long as it wasn't completely finished before getting the guitar. I wrote another song from start to finish that week on that guitar, about blowing my nose constantly, but I'm saving that one for just the right audience. Under the Acoustic Guitar Project agreement, I cannot re-release this song myself for a year, but you can hear it streaming here: http://www.theacousticguitarproject.com/artist/carla-ulbrich/ 
Greetings, my far-above-average friends! 
On February 18, 2013 
Totally Average Woman. That's the name of the song I just contributed to The Acoustic Guitar Project. I feel so ordinary now that I'm not living in a van. I'm married, doing dishes, cooking, paying homeowners' Association fees, walking the dog. I figured if some guy were to write a blues song about me, it would come out like this: http://www.theacousticguitarproject.com/artist/carla-ulbrich/ 
The Acoustic Guitar Project is happening in several cities. Each artist gets the guitar for a week, and has to write and record the song in a week. Then they decide who gets the guitar next. "Totally Average Woman" was a song I had started already but hadn't finished. I did write another song during the week on the guitar, but it was about blowing my nose, and it just seemed too gross to submit to the project. Not too gross for you guys, though. I'll be sure and play it at every show. 
 A little news tidbit courtesy of Kathy Criscola. For some reason this what-is-wrong-with-you news story about a man randomly giving people wedgies made her think of me: 
http://www.wctv.tv/home/headlines/Man-Arrested-for-Giving-Wedgies-186967851.html 
And a new review of the book from a Crohn's/ IBS website called - get this- The Great Bowel Movement. http://thegreatbowelmovement.org/book-review-how-can-you-not-laugh-at-a-time-like-this/ 
Book reviewed on "The Great Bowel Movement" website 
Posted by Amanda Kasper  -  On January 28, 2013 
I LOVE this name of this blog! :D 
"Four hours ago, I sat down with the book "How can you NOT Laugh at a Time Like This: Reclaim Your Health with Humor, Creativity and Grit" written by Carla Ulbrich. The book was recommended to me in the middle of July, and I of course promptly ordered it on Amazon, however, it sat on bookshelf until this morning. I can't explain what led me to this book, amongst the 27 others in line waiting to be read, but looking back, I feel like it may have been fate. Because, you see, this book was exactly what I needed at this moment in time." 
read more: http://thegreatbowelmovement.org/book-review-how-can-you-not-laugh-at-a-time-like-this/ 
"How Can You NOT Laugh at a Time Like This?" published in Thailand 
On January 10, 2013 
Just got the word that "How Can You NOT Laugh at a Time Like This?" has been published in Thailand. 
I wrote an extensively researched paper on Thailand (what I remember? It was formerly called Siam, and they have more than 18 kinds of bananas!) in 3rd grade. Foreshadowing or premonition? 
Guest Appearance on Fill in the Blank 
On January 08, 2013 
In case you missed it, here is my (and Joe and Easy's) short but silly appearance on my pal Grant Baciocco's "Fill In The Blank" radio show on January 6, where I'm playing the the flight attendant who taped a drunk passenger to his seat. http://www.saturdaymorningmedia.com/media/pitn/PeopleInTheNews005.mp3 
It's Always New Year's Somewhere 
January 07, 2013 
It's been a week. How are those resolutions going? Going well, I hope. But if not.. 
Here's a thought: Do over! 
Chinese New Year is February 10. 
New year in many South Asian calendars falls April 13-15. 
Jewish New Year is in the fall. So... to paraphrase what my Grandfather would say when he wanted a beer ("It's 5 o'clock somewhere!" ... actually now that I think of it, he said "it's noon somewhere"- but I digress...), my friends, "It's always New Year's somewhere!" 
You can always start over. 
(In case you're wondering, my resolution is to watch fewer crime shows and more cheesy movies. So far, pretty good. Thank you, Hallmark channel). 
Another approach? You could just stop making resolutions and instead create a "good things jar." Here's a nice idea that's been circulating around a lot this week:Take a clean, empty mason jar (or spaghetti sauce jar). Every day you write on a slip of paper something good that happened that day- something that made you smile or laugh, or that you are proud of. Put the slip of paper in the jar. At the end of the year, you get to enjoy those wonderful things all over again. 
New! Karaoke version of the F word song 
On January 06, 2013   
By request, I have recorded and made available a karaoke version of the F word song ("If I Had the Copyright.") 
It's just the guitar. the bleeps (or lack of bleeps) and all the other words are up to you. Maybe eventually I'll do a whole "carla-oke" album, but for now, you can get an mp3 copy of this one song right here for $1.09. 
http://store.payloadz.com/go?id=1363910 
recap of First Night in Morristown 
January 04, 2013 
Nice recap of Morristown's First Night (new year's eve) event: 
http://morristowngreen.com/2013/01/04/video-another-look-back-at-first-night-morris-2013/ 
What Is Laughter? 
January 03, 2013 
I'm featured in the new book, "What is Laughter?"- a nice compilation of many people's thoughts on that simple but profound question. Compiled by Lexie Brockway Potamkin http://t.co/vmhF7apF 
Joe tricks me into being the Klingon 
January 02, 2013   
New Video (live): After 10 years of playing the Klingon in my "Duet with a Klingon," Joe tricks *me* into being the Klingon in concert. http://t.co/SJXFtV7R